This is probably the word I have heard the most since I began blogging and the one piece of advice I have been given repeatedly by other bloggers. They all agree to be successful in the blogsphere, a blogger needs to do two things; find their niche and be true to yourself.
So for the last couple months I have been trying to follow their advice which is what led me to the A-Z challenge. I thought it would help me narrow down what it is I want my blog to be.
I very obviously am not a mommyblogger so that one is a definite no.
I don't have a finished novel (or even one in the process ) and don't really consider myself a "writer" but I love to write. So while that niche is more my size it still isn't the exact fit.
Then yesterday Kim left a comment on my blog. She writes over at
The Child
. She is an amazingly talented writer. She writes about the raw truth of the world in such vivid detail, and that is why I love reading her blog. But yesterday, she left a comment on
my post
that said,
"I'm so grateful you are sharing the important stuff. I'm tired of going to people's blogs and reading about nothing."
And from that one comment I think I finally know what my niche is and I have a clearer idea of what direction I want my blog to go in. I have survived through such events in my life that even I have a hard time believing they are real. They seem more like events you would see in a movie or read in a book. I think it is important to share those with people. Not only will it benefit others who are in similar situations, but it can help those around them spot the warning signs and know how to help, but at the same time I don't want to be just an advocacy blog . I want to incorporate that alongside my writing. I don't plan on making any real changes until after the A-Z challenge, but I definitely plan to sit down and really think about what it is I want for my blog and come up with a plan of action.
I think by being more open about my past that it would allow me to grow more as a writer. Now I write very vaguely because I don't want to "scare" anyone, but people need to be scared. It is reality and ignoring it won't make it go away.
This makes me even more super excited about blogging. While I love Seinfield, I hate writing fluff. If I just kept writing fluff, then I know eventually I would quit blogging altogether. It feels nice to have maybe finally found my place in the blogsphere. I will of course have to spruce it up a bit before I invite you guys over.Woo-hoo! I found my niche and no one was injured in the process. At least not yet anyways.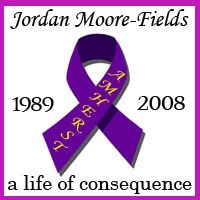 I would also like to share with you all another blogger that I found through She Writes. She blogs at
AlwaysMomof4
. In 2008 her 19 year old son was killed in an auto accident and the other day she posted a link on the She Writes forum to a
blog post
of hers regarding her feelings about what would have been his upcoming college graduation next month. She is planning on tying a purple ribbon around a tree in her front yard to commemorate the event and was asking others to do the same. I told her I didn't have a tree, but I did have a blog and asked if it would be ok to tie my ribbon on my blog. She agreed so I designed this button and will have it displayed in my sidebar for the next month in order to honor her son, Jordan's, memory. If you would like to join the commemoration, then please grab the button in my sidebar and add it to your blog. To find out more about Jordan and the circumstances of his life and tragic death, please visit
AlwaysMomof4's blog
In Memory of Jordan Moore-Fields 1989-2008 a life of consequence