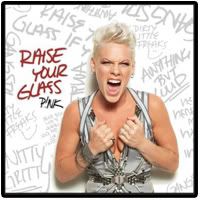 So raise your glass if you are wrong, in all the right ways, all my underdogs, we will never be never be anything but loud and nitty gritty dirty little freaks won't you come on and come on and raise your glass, just come on & come on & raise your glass
-Pink
Today I read a post called
Keeping It Real
and at first I was going to just write a single blog post about the person who posted it. Then I thought no that isn't enough. Then I thought I would start a "blog of the week", but there are so many already cheesy awards and things so that was out, but I had to do something.
So in honor of her post I want to also
"keep it real"
because sometimes it's something I have a difficult time doing.It's much easier to be numb than it is to feel. So since she is the one who mentioned the song "Conversations with My 13 Year Old Self" which also led me to finding "Raise Your Glass", that is why I decided instead of a
"blog of the week",
I would
"Raise My Glass"
to whoever has inspired me that week and since her post led to the creation of this I raise my first glass to
If you don't know her, then you are definitely missing something in your life. Secondly I would like to also honor another friend and while only she might understand the importance of this or at least I hope she understands the importance of what this means to me. For my wonderful friend
I give the "My Sam"
"I cannot carry your burden, Mr. Frodo, but I can carry you"
Vanimle sila tiri
Cormlle naa tanya tel'raa

I have so many people I want to raise my glass to. I will to each and everyone who has brightened up my world and given a helping hand to a frightened little so she could go play with dragonflies. For the first time in my life I feel I have friends. Thank you to all of you.